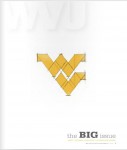 It was certainly a weekend of celebrations in West Virginia.  In addition to participating in the 143rd Commencement at West Virginia University, Dr. Tina Dow's research was highlighted  in the latest edition of the WVU Alumni Magazine.
Written By Jake Stump/ Photographs By Scott Lituchy
The story of Tina Dow's love of elephants began in another story, tucked away in the pages of her first Little Golden Book — The Saggy Baggy Elephant.
Never Could she predict that someday she'd work with the same creatures that fascinated her as a girl growing up in Cumberland, Maryland.
Ultimately, it was the mighty elephant that steered her onto the path to a PhD at West Virinia University.
Dow first earned a bachelor's degree in Animal and Veterinary Sciences at WVU in 2002.  After graduating she lacked direction.
she enrolled in courses at the University of Connecticut and took an internship at Roger Williams Park Zoo in Providence, Rhode Island.
Clarity would appear in the form of the largest living land animals on Earth today.  As soon as she walked into the elephant barn at the zoo, she knew what she wanted to do with her life.  Her interest in elephants morphed into a passion.
The trumpet of the elephant came calling, and she didn't have to venture to an exotic location to live out that dream of researching elephants.
She just returned to WVU.
Under the tutelage of Robert Dailey, professor of Animal and Nutritional Sciences, Dow carved her own niche as a doctoral student.
"He said to me, 'So, Tina, you want to start a PhD. What do you want to do?" Dow recalled.  "I said, 'I don't know.  What kind of projects do we have going on here that I could get involved in?'  He said, 'No, no, no.  What do you want to do?'  I said, 'I want to study elephant.'"
Dow would study reproductive physiology and research the causes of infertility in elephant.  In March (2012), Dow successfully defended her dissertation.
"I got the opportunity to marry the two things I love the most–study elephants and reproductive physiology," Dow said.  "Not many get the opportunity to study what they like for a PhD."
Wither her husband, Andy, she founded Wildlife Research and Conservation–http://wildliferesearch.org– an organization that promotes wildlife conservation through education and research.
She attributes her successes in wildlife to her time at WVU.
"One thing I always found about WVU was that there are so many opportunities." Dow said.  "There are so many curriculums and such a diverse staff that's always willing to help.  WVU makes you think outside the box or as if there is no box.  You don't see that everywhere."