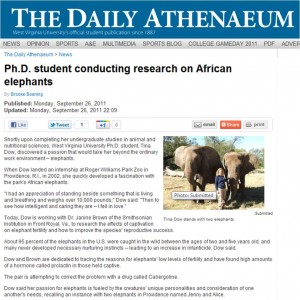 By: Brooke Boening
The Daily Athenaeum
Shortly upon completing her undergraduate studies in animal and nutritional sciences, West Virginia University Ph.D. student, Tina Dow, discovered a passion that would take her beyond the ordinary work environment – elephants.
When Dow landed an internship at Roger Williams Park Zoo in Providence, R.I., in 2002, she quickly developed a fascination with the park's African elephants.
"I had an appreciation of standing beside something that is living and breathing and weighs over 10,000 pounds," Dow said. "Then to see how intelligent and caring they are – I fell in love."
Today, Dow is working with Dr. Janine Brown of the Smithsonian Institution in Front Royal, Va., to research the effects of captivation on elephant fertility and how to improve the species' reproductive success.
About 95 percent of the elephants in the U.S. were caught in the wild between the ages of two and five years old, and many never developed necessary nurturing instincts – leading to an increase in infanticide, Dow said.
Dow and Brown are dedicated to tracing the reasons for elephants' low levels of fertility and have found high amounts of a hormone called prolactin in those held captive.
The pair is attempting to correct the problem with a drug called Cabergoline.
Dow said her passion for elephants is fueled by the creatures' unique personalities and consideration of one another's needs, recalling an instance with two elephants in Providence named Jenny and Alice.
"When Jenny wasn't feeling well, Alice would touch her belly with her trunk and bring her hay," Dow said. "They're so well studied, and yet there is so much we don't understand."
Dow credits the chair of WVU's reproductive physiology program, Dr. Robert Daily, as a leading researcher in the U.S., and said her time spent at the University has been invaluable to her research.
"Because of how I was trained by Dr. Daily, I feel competent – capable of doing anything thrown my way," she said. "Reproductive physiology at WVU is just amazing. The program here is known everywhere."
When asked what her plans are after receiving her doctorate in May, Dow said she hopes to become a field researcher for National Geographic.
"That would be it for me – my number one job," she said.
In the mean time, Dow is working on a foundation she began with her husband called Wildlife Research and Conservation.
The organization is dedicated to spreading awareness of the problems facing wildlife.
"If you would have asked me five years ago what I would be doing, I never could have told you," she said. "Every day I'm so excited to travel to zoos, interact with new people, travel internationally and communicate to people the plight of elephants, gorillas and other wildlife. I campaign for them."
To learn more about Wildlife Research and Conservation visit www.wildliferesearch.org.