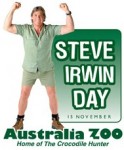 This Tuesday, 15 November, is the annually celebration of the life of Steve Irwin.  Like him or not, you cannot deny that this man brought the plight of wildlife conservation into more than 150 million living rooms around the world.  Carrying on that tradition, the aptly named Steve Irwin Day continues Steve's mission to fight for wildlife conservation and habitat preservation.  In addition, the day reminds us that one person can make a huge difference.
I remember the first time I saw Steve Irwin on television.  Being raised on the stylings of Sir David Attenborough, Steve was unlike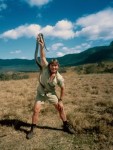 anything I had ever seen.  Within a matter of 15 minutes Steve dodged several strikes from a 14 foot saltwater crocodile and managed to keep from getting tagged by one of the world's most venomous snakes; all while enthusiastically telling us "Crikey!  Have a look at this little beauty!"  I, like millions of others, watching this death defying feat was sold.  Although some viewers tuned in to simply see if Steve was going to get bit, clawed, or envenomated, I watched in awe.  Steve was following in the footsteps of his parents, Bob and Lyn, and sharing their great passion for conservation.  Who could have thought, years later, Steve's following would rival that of a rock star.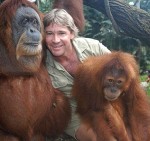 Viewers never knew where Steve, along with his wife Terri, would take them next.  From the Islands of Komodo, Sumatra, and Borneo, to Irian Jaya, Namibia, Madagascar, Belize, United States, Antarctica, and into his backyard of Australia, Steve took us to just about every far corner of the globe.  The Khaki-clad Wildlife Warrior gave people a glimpse into the world of some of the most elusive and endangered animals, as well as the not so lovable species.  All the while teaching us that all creatures play an important role in biodiversity, and so they all deserve our attention.
It would have been really easy for Steve to bombard viewers with horrific scenes of atrocities against wildlife and point the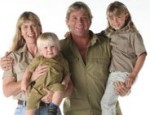 finger at those committing such crimes, but instead he focused on how to fix problems and prevent them from happening again; Steve was a doer.  And so, in Steve's memory, we need to continue to identify how we can best contribute to wildlife conservation and habitat preservation, and then do it.  Steve inspired both young and old to care about the world and all its inhabitants.   Steve moved at the speed of lightening or as he would say "Flat out like a lizard drinking."  In addition, Steve not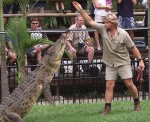 only was a wildlife crusader, but also a husband, best mate, son, and father.
I think that Steve's legacy is one that needs to continue despite whether you supported his methods or not.  Regardless, the overall message is that wildlife needs our help, even more so as the world human population continues to increase.  Habitat continues to be destroyed at an alarming rate to make way for human settlements, crop land, industry, and timber harvest.  Likewise, our oceans are also being polluted and overfished.  Ultimately, in helping wildlife and the environment we inevitably help humans too.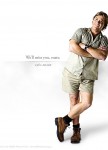 I was very fortunate to see Steve at his home, Australia Zoo, in March 2006.  Five years after his death, in my own wildlife adventures, I find myself still asking "How would Steve handle this?"  I am not sure what path I may have taken had I not been so influenced by Steve's early documentaries, but I think it is safe to say I am a better person for them.  I thank Steve and his family for sharing their passion and for their undying spirit to protect our natural world.  So this 15 November don your khaki and celebrate Steve Irwin and his legacy by pledging to do your part to conserve wildlife and preserve habitat.  You can find more information about Steve Irwin Day at www.steveirwinday.org/ or www.australiazoo.com