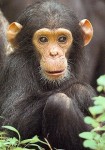 Animal Awareness and Conservation, a new student group at West Virginia University, is turning its organizational interests into action with its first major service activity.
Students from the group will be collecting items for Chimp Haven, the National Chimpanzee Sanctuary in Caddo Parish, La. It's an independent, nonprofit organization whose mission is to provide lifetime care for chimpanzees that have been retired from medical research, the entertainment industry or are no longer wanted as pets.
"We chose Chimp Haven because of its non-profit status, its mission to provide a long term home for chimpanzees retired from medical research and its wish list, which is perfect for college students to support," said Debra Richardson, one of the founders of Animal Awareness and Conservation.
Richardson is pursuing a master's degree in agricultural and extension education in the WVU Davis College of Agriculture, Natural Resources and Design. She was inspired to start the organization by another Davis College graduate student.
"I created Animal Awareness and Conservation last semester after meeting Tina Dow and learning about the nonprofit organization she and her husband were creating, Wildlife Research and Conservation," Richardson explained. "I wanted to bring something similar to WVU and use student participation to help educate ourselves and the public about conservation issues."
Dow, who will complete her Ph.D. in reproductive physiology this spring, turned her scholarly passion for elephants into a nonprofit that supports conservation through research and education.
"I really hope to implement annual support for Chimp Haven and to use this amazing organization as an educational tool for students," Richardson said.
Animal Awareness and Conservation will set up donation boxes in the Agricultural Sciences Building and at the West Virginia University libraries.  In-demand items include:
Rubber boots
Dog Toys
Plastic mixing spoons
Peanut Butter
Canned vegetables – whole, diced or mashed
Canned fruit – whole, sliced, or crushed – no sugar added
DVDs of nature shows, cartoons, PG movies
CDs of nature sounds and world and classical music
Linens, including sheets and towels
After collecting the items, students will deliver the donations to Chimp Haven.
"We're planning to trip to coincide with one of Chimp Haven's many educational outreach programs, which will allow the students who attend to tour the facility, meet the chimpanzees and learn more about Chimp Haven's efforts," Richardson said.
Animal Awareness and Conservation meets at 8 p.m. each Monday in the lobby of the Agricultural Sciences Building on WVU's Evansdale Campus. Membership is free, and students from all majors are welcome to join. For more information on the organization or the donation drive, contact Richardson at debra.richardson@mail.wvu.edu.
-WVU-
dw/03/12/12
CONTACT: David Welsh; Davis College of Agriculture, Natural Resources and Design
304.293.2394; dwelsh@wvu.edu
Follow @WVUToday on Twitter.