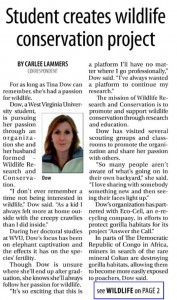 For as long as Tina Dow can remember, she's had a passion for wildlife.
Dow, a West Virginia University student, is pursuing her passion through an organization she and her husband formed – Wildlife Research and Conservation.
"I don't ever remember a time not being interested in wildlife," Dow said. "As a kid I always felt more at home outside with the creepy crawlies than I did inside."
During her doctoral studies at WVU, Dow's focus has been on elephant captivation and the effects it has on the species' fertility.
Though Dow is unsure where she'll end up after graduation, she knows she'll always follow her passion for wildlife.
"It's so exciting that this is a platform I'll have no matter where I go professionally," Dow said. "I've always wanted a platform to continue my research."
The mission of Wildlife Research and Conservation is to promote and support wildlife conservation through research and education.
Dow has visited several scouting groups and classrooms to promote the organization and share her passion with others.
"So many people aren't aware of what's going on in their own backyard," she said. "I love sharing with somebody something new and then seeing their faces light up."
Dow's organization has partnered with Eco-Cell, an e-recycling company, in efforts to protect gorilla habitats for its project "Answer the Call."
In parts of The Democratic Republic of Congo in Africa, miners in search of the rare mineral Coltan are destroying gorilla habitats, allowing them to become more easily exposed to poachers, Dow said.
Coltan may also be found in the batteries of cell phones and other hand-held electronics
Through "Answer the Call," participants are encouraged to donate their used hand-held electronics to aid in providing miners with the mineral and eliminating the destruction of gorilla habitats.
Along with the conservation of wildlife, Dow's organization works to alleviate human-animal conflict all over the world.
Dow said in some parts of the world, elephants are not viewed as the magnificent creatures that they are in the U.S.
Some cultures live amongst the elephants and are fearful of the species due to previous negative experiences.
Wildlife Research and Conservation aims to work with those individuals around the world experiencing conflicts with animals to alleviate their fears.
"You always have a human component," Dow said. "It's more like helping animals and helping people."
Dow said she hopes West Virginia residents will do their part and realize her organization's impact on their lives.
" I've traveled all around the world – West Virginia is still one of the most beautiful places I have seen," she said. "We want to conserve what we have for generations to come."